If you are here from
SITS
WELCOME! I posted about being SAUCY below! Thanks for coming!
Alright, so if you hadn't all ready noticed, I am all about the participation!! I am new to the blogging land and I have enjoyed all sorts of different activities with all of you! This time I am part of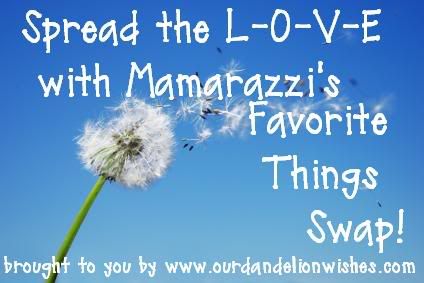 A BIG thanks to
Mamarazzi
for hosting this shin dig!! She is amazing! If you haven't been over to see her, make sure you stop by!!
This is my very first swap and I am sooo excited!! My partner is
Emily Rozell!
Go check her out! Her little one Rev is the cutest!! And she's got beef with the Motrin advertising people too! Go look it up and if you have something to say, make sure you tell Emily and Motrin!!
Emily this is for you! This is meant as a teaser!! Hehe! This package is going out first thing in the morning! I really hope you enjoy some of my favorite things!!
**Don't worry, I'll keep the monster here! Today she is NOT one of my favorite things!! Even if she is stinkin' cute!**