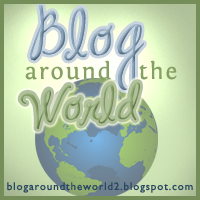 Hey Y'all!! Thanks for coming to see me today! I am SOO excited to be hostessing at BATW! i found you all just a few weeks ago when you did a layover in San Diego over at Mamasphere! Better known these days as
Laural Out Loud!
Ever since I have been hooked, so needless to say, I am excited to show you all around Myrtle Beach! So, Without further ado...WELCOME to the home of Smiling Faces, Beautiful Places
People come by Myrtle Beach to do various assortments of things!
First of all, the most obvious thing: THE BEACH!
Say HI everybody!!!
Of course I had to throw in some wedding pictures!!

We are also home to the worlds largest sand castle built at 60 feet wide and 35 feet tall!!!
Not to mention the sand castles built for our presidential candidates!
Recognize them?? Thats Hiliary, Obama, and John Edwards!
There are other reason that people come to Myrtle Beach, besides the beach. Reasons that I don't care about.
Okay, so I do care about it. I am just terrible at it! Myrtle Beach has SO many golf courses it's unreal! Literally thousands of people flock here for the golf...beyond me!
So this is one of my FAVORITE things about Myrtle Beach!
Outlet Shopping!!!!
We have two different locations with amazing outlet stores! Not to mention all the other various locations and different types of people!
Are you all still with me?? Good!! Myrtle Beach is such a great area! I really love it here! There is so much to do and see! The outdoor part of Myrtle Beach is the most fabulous part! The Beach, the Intercoastal Waterway, camping,fishing, jet skis, water skiing, boating, crabbing, playing outdoors, just everything! There is ALWAYS something to do here!
The people are just wonderful! Myrtle Beach is melting pot! There are so many different cultures here--we have other nationalities--Mexican, Central Americans, South Americans, Eastern European, Israelies,
Yankees
, people from all over the US. It is so much fun to meet so many different people!
I hope you all have had fun with me on this trip! Please come and visit Myrtle Beach anytime! You always have a friend here! We will show you the epitome of Southern perfection with a dash of the romantic coast!!
Y'all come back now, ya hear??